Show Awards


The 2024 Convention will feature the special themed challenge: "Record Setters". Break your own personal-best by building a paper model and bring it to the convention to enter the competition!
---
2023 International Paper Modelers Convention Awards:
A special Silver Jubilee Award for the 25th Annual International Paper Modelers Convention goes to Steve Brown, the only person to have attended all 25! Steve's table displayed name badges from all previous conventions.
Dan Smith, a newcomer to the event, received the Travel Award for coming all the way across the country from Seattle.
Joe Teakell, another first-timer, brought an amazing array of airplanes, spacecraft, and armor models in tiny 1:240 scale or smaller. He received the Engineering Excellence Award for the abundance of operational parts, including turrets that turn, guns that elevate, rockets that separate into stages, and a Space Shuttle with opening payload bay doors.
The Greg Perry Silk Purse From a Sow's Ear Award was judged by Ray Smith and Jack Colin this year, standing in for Greg. It went to Jeff Cwiok for his Wilhelmshaven Schnellboote.
There were two outstanding candidates for both the Best Table Display and the Letter 'A' Theme Award this year, and the awards could easily have been reversed without injustice to either party. The judges chose to give the Theme award to Jack Colin for his table of varied subjects, all of which related to "The Letter A."
Matthew "Tractor" Jefson got the Best Table Award for his three tables of farm equipment, which had to be seen to be believed, starring a John Deere Model A tractor with explanatory labeling on a spinning turntable.
Bob Delpizzo received the award for Most Unusual Model, for his work-in-progress Anglerfish, which is at the skeletal stage right now.
Finally, although voting was light this year, there was a clear winner for People's Choice this year. It was Tyler Hafley's amazing work-in-progress Supermarine Spitfire, with numerous operating parts and electrical components.
---
2022 International Paper Modelers Convention Awards: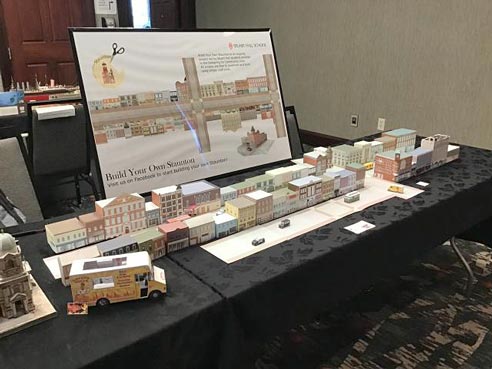 Special Award for Taking Modeling Into the Future: the students of Stuart Hall, who returned with their model of downtown Staunton, VA, as well as a nice variety of other subjects.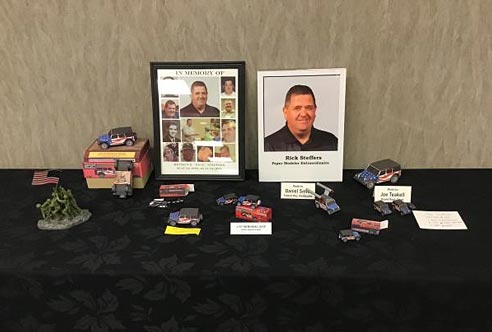 Special Award for organizing the Rick Steffers Tribute: Ray Smith (Texman) and Peter Ansoff.
Special Award for Engineering Excellence: Karol Budniak, who brought his work-in-progress of a very detailed model of a dredging vessel. The award also recognized him for longest distance traveled, since he came to the convention from Poland.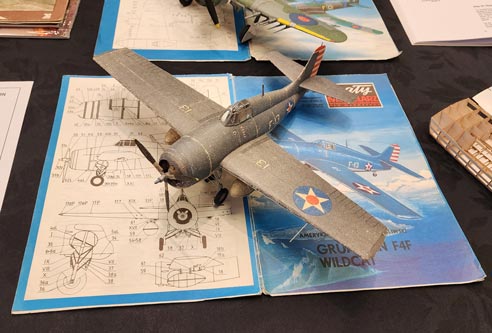 The "Silk Purse From A Sow's Ear" Award: Endowed and selected by Greg Perry, this award recognizes the best build of a kit with deficiencies, such as poor-quality paper, bad fit, incomprehensible instructions, and so on. Karol Budniak was the winner for his fine build of an early Mały Modelarz Grumman F4F Wildcat with horrible paper.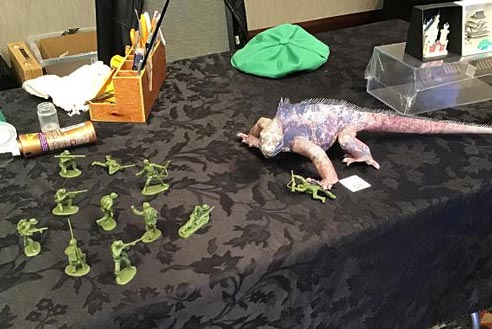 Most Unusual Model: Bob Delpizzo won for his monster kaiju iguana laying waste to a squad of green Army men.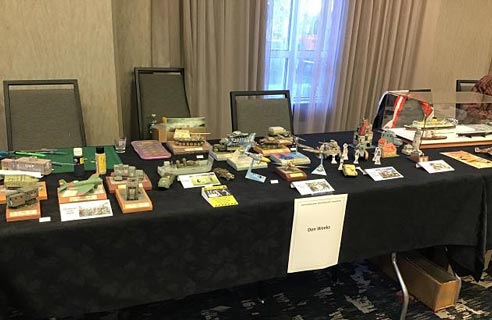 Best Table: Don Weeks won for his well-organized display of a variety of subjects, including fantasy armor from Warhammer and "Girls Und Panzer."
This year's theme was "The Sea — In, On, Under, or Beside the Sea." There were many fine models and tables relating to the theme, so these were tough choices. In years past, we have given an award for "Creative Misinterpretation of the Theme," but this time around that title didn't seem quite right.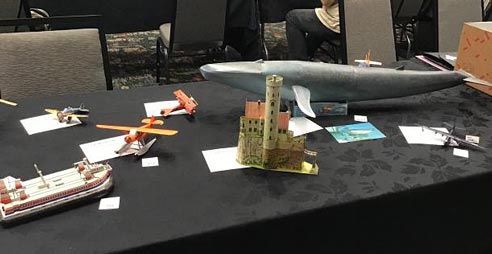 We awarded "Creative Interpretation of the Theme" to Matt Vance for his huge model of a Blue Whale.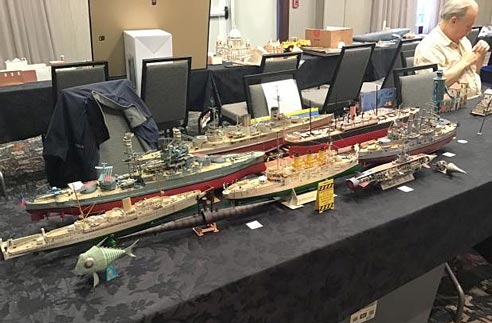 The Theme Award went to Jack Colin for his entire table, mostly of finely detailed ships but with some other whimsical nautical touches.
Finally, the People's Choice Award went to Tyler Hufley for his amazing original design Grumman Goose airplane, with motorized propellers, operating lights, moving control surfaces, and many other astonishing working details.
---
2019 International Paper Modelers Convention Awards: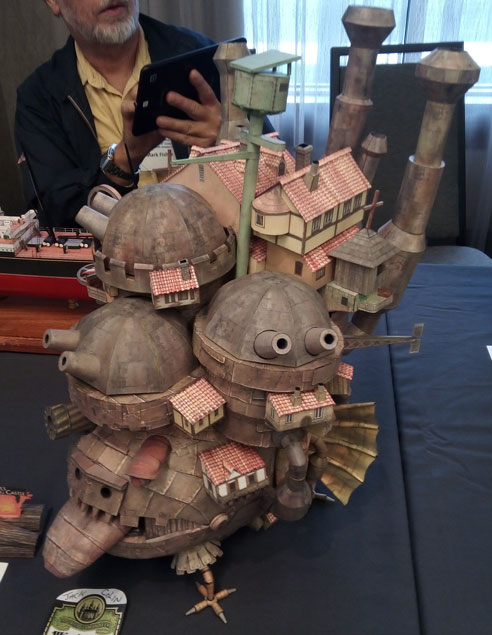 The People's Choice Award is determined by a vote by every IPMC participant and visitor, each of whom was given a ballot and asked to vote for the model they liked the best using whatever criteria they chose. This year's People's Choice Award went to Jack Colin's Howl's Moving Castle model.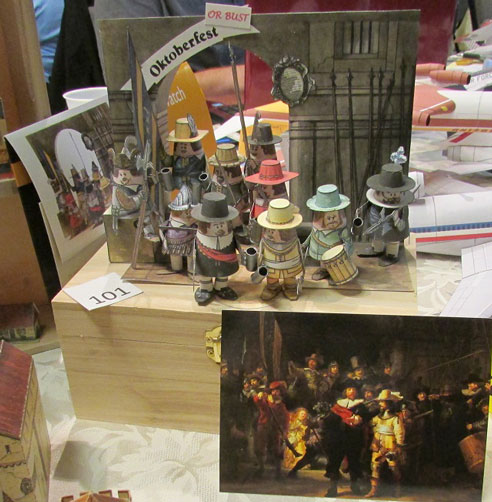 The Theme Award ("Oktoberfest – Anything German: buildings, airplanes, ships and watercraft, living creatures, automata, land vehicles of all types, science fiction, fantasy, and real spacecraft and objects, and any other category you can think of, so long as it is German. The final decision as to sufficient Germanicity lies, as always, with the infallible, ineffable, indomitable, and indefatigable Awards Committee.") went to Linda Kemp for her model of Rembrandt van Rijn's The Night Watch on the Way to Oktoberfest.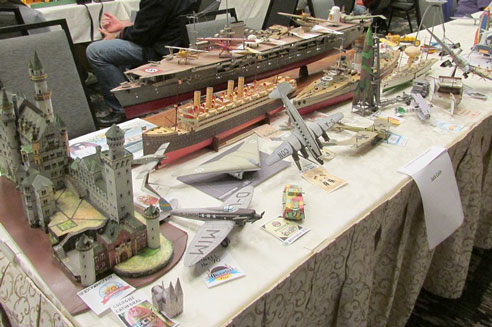 Jack Colin received a Special Theme Award because every single model on his table was German in one way or another. He was also in German dress and drinking German bier from a German stein.
Rick Steffers won the Most Creative Purposeful Misinterpretation of the Theme Award for his Spocktoberfest display.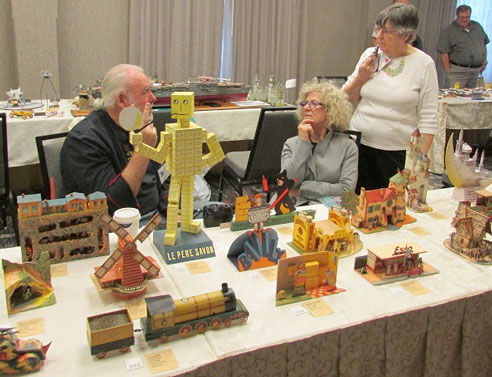 The Best Table Display Award went to Tom and Olivia Greensfelder for their superbly presented collection of antique paper models.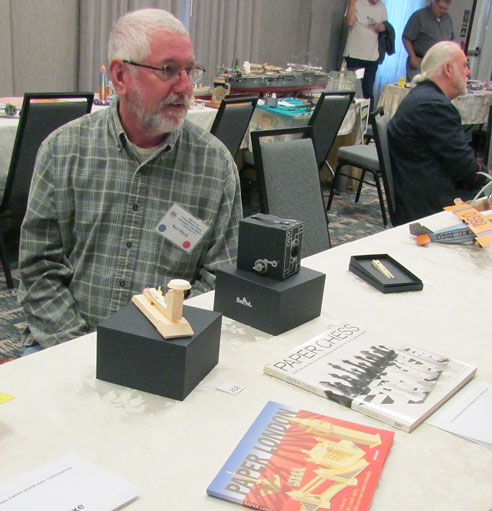 The Most Unusual Model Award was presented to Kell Black for his collection of a stapler, a Kodak Brownie Box Camera, and clothes pin. Kell's paper model of a paperclip is on display in a museum.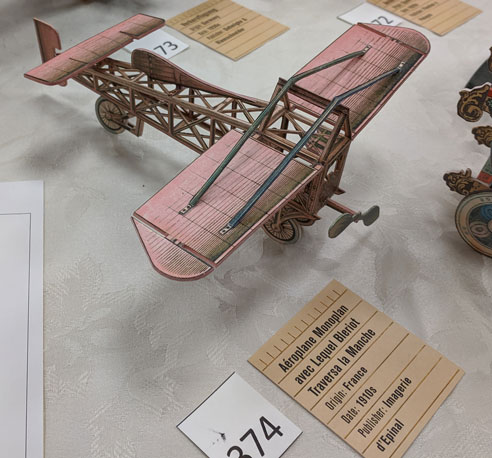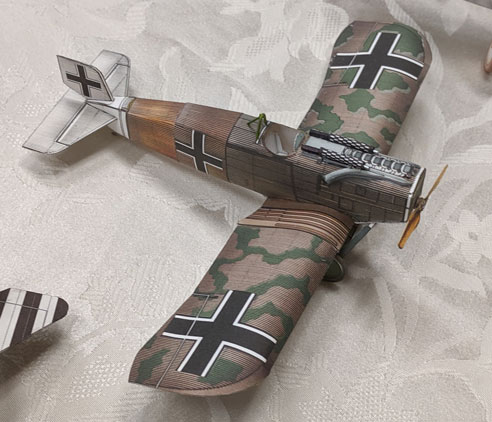 The Greg Perry Silk Purse out of a Sow's Ear Award, for best build from a challenging or "bad" kit, was a tie between Tom Greensfelder's Bleriot monoplane and Alan Wheeler's Junkers D.I.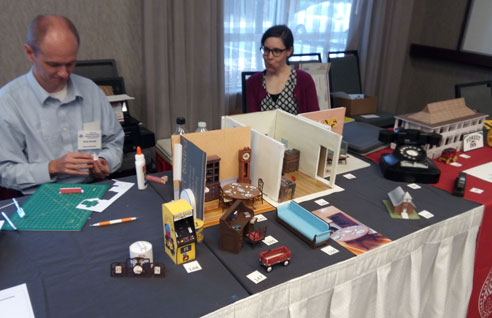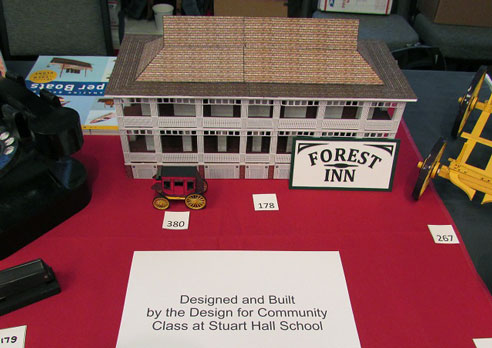 The Committee awarded a special award for its Contribution to Education Through Paper Modeling to the Stuart Hall School, which participated in the event this year, along with teachers Brad and Ashley Arnold. The models designed and built by the students and the faculty were superb.
---
2018 International Paper Modelers Convention Awards: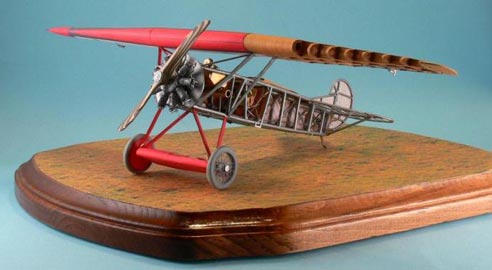 The newly-formed Awards Committee experienced some difficulty in the 2018 People's Choice Award when the numbers assigned the the models for voting became confused from the specific models. During tallying, the votes were very widely spread among many models, but a clear repeat winner emerged in Ray Smith's scratchbuilt Fokker D. VIII. As a second-time winner (first in 2014), he will be retiring this magnificent model from competition.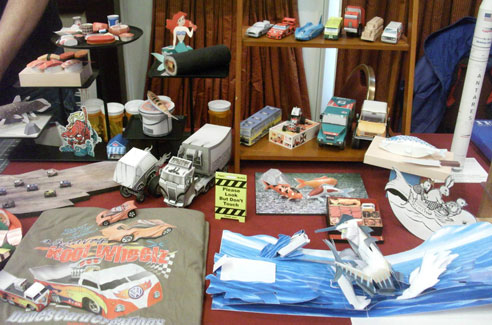 Best Theme Table: Rick Steffers, for an amazing variety of sea creatures and seafood-related models.
Best Theme Individual Model: Jack Colin, for "The one that got away," a diorama of a UFO abducting a large fish creature while the much smaller human fisherman runs for his life.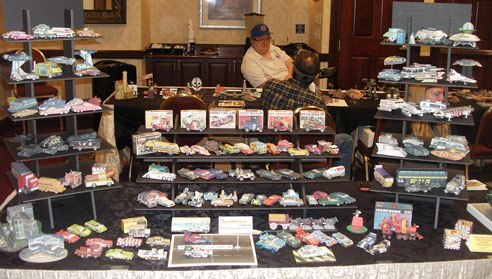 Best Table Display: Dave Winfield, for his display of his many designs, including KoolWheelz, his Saladin, various Canadair Tutors, and more. His interlocking cardboard display shelves were much admired as well.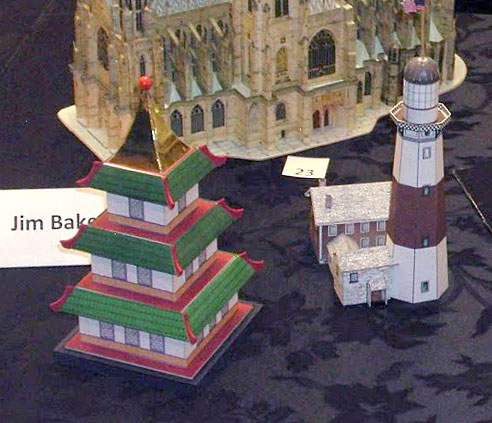 Most Unusual Model: The committee deadlocked on this award. Fortunately, both finalists were built by the same person. Jim Baker won for his foam-core house and/or his stacking pagoda Bento box.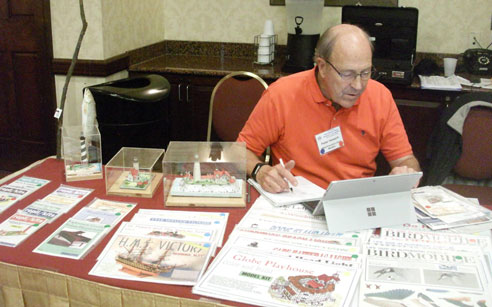 Special Recognition: Peter Heesch, who after many years of loyally and generously supporting the Convention in a variety of ways, actually built a model for the first time in anyone's memory. His Trout on a Fishing Pole was thematically appropriate as well.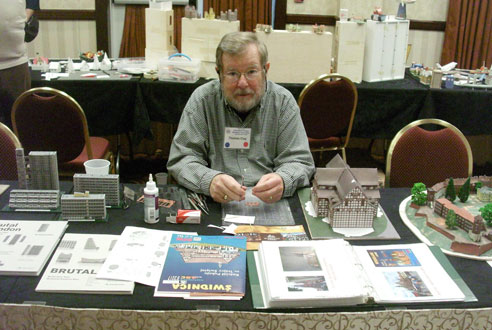 Productivity Award: Thomas Clay, whose extensive table display consisted entirely of new models, built within the last year. He got a German castle, which he should be able to complete easily in a short time.
Comedy Award: Rick Steffers' Flopping Fish on a Chopping Block automaton.
---
2017 International Paper Modelers Convention Awards:

People's Choice Award: Kevin Stephens' Dragon Wagon
Kevin's M26 tractor and Sherman Tank shared the 2015 People's Choice award, before the trailer was built.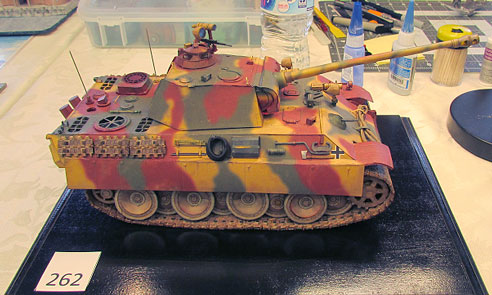 Theme Award for Best Tank or Tanker Model: Roger Griffith's Panzer V Panther Tank.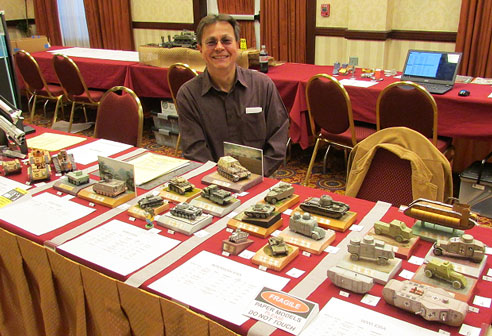 b>Best Table Display: Don Weeks displayed a wide variety of 1:50 scale tanks.

Most Unusual Model: Greg Perry's Kalinin K-12 Phoenix, a tail-less pre-WWII bomber in "firebird" colors.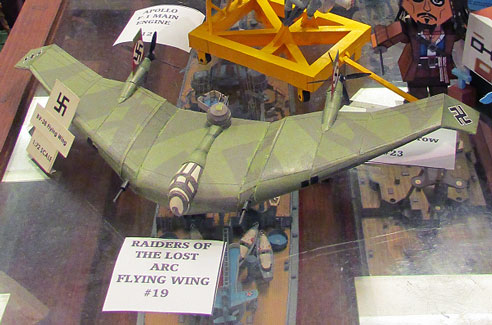 Greg Perry Silk Purse Out of a Sow's Ear Endowed Award: Jack Colin's Raiders of the Lost Ark Flying Wing.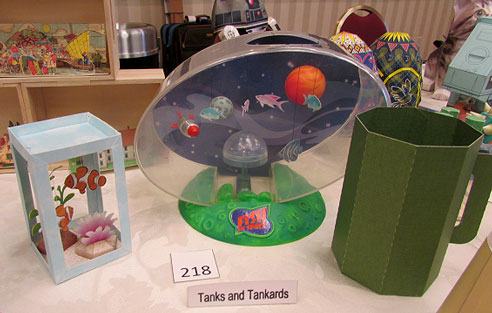 Special Awards for Best Misinterpretation of the Theme: Linda Kemp displayed several fish tanks and an oversized tankard.
In a similar vein, Jack Colins crafted a set of miniature tankards inscribed with "Thanks" written in different languages!
---
2016 International Paper Modelers Convention Awards: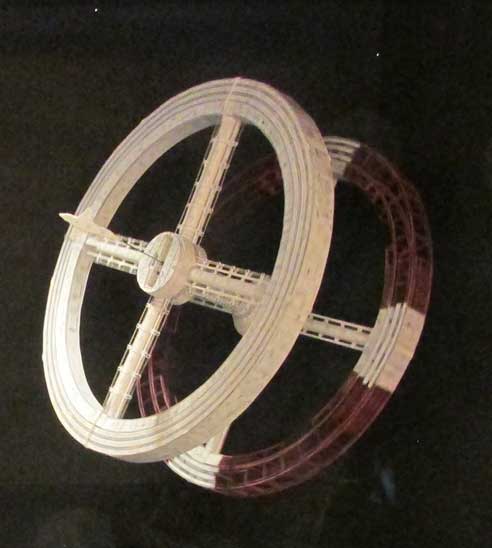 People's Choice Award: Roger Griffith's 2001 Space Station V. Featuring light and sound, Roger presented the story of building this highly-detailed model at the 2015 convention.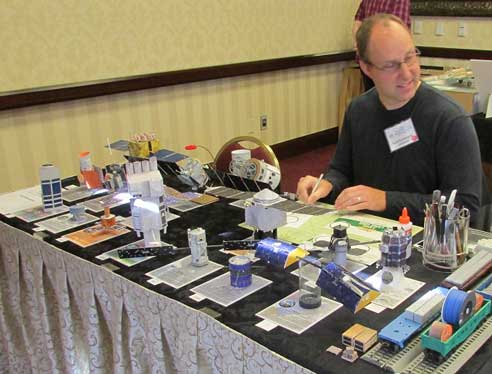 Theme Award for Best Space (Real & Imagined) Model: Scott Reiman's table of (real) satellite models.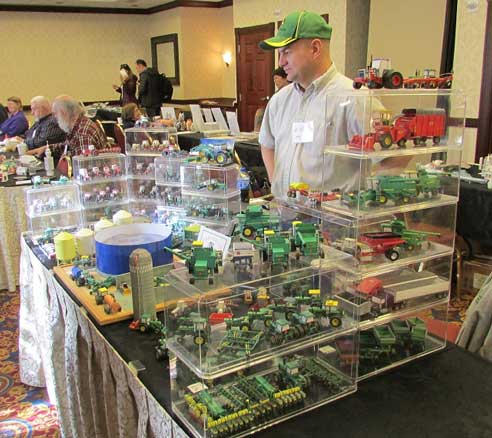 Best Table Display: Matt Jefson's huge display of scratch-built agricultural machinery (Agrigami).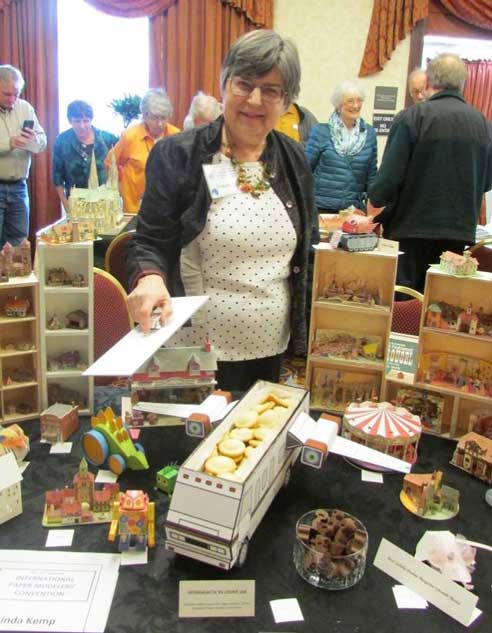 Most Unusual Model: Linda Kemp's Intergalactic RV/Cookie Jar with (non-paper) cookies inside.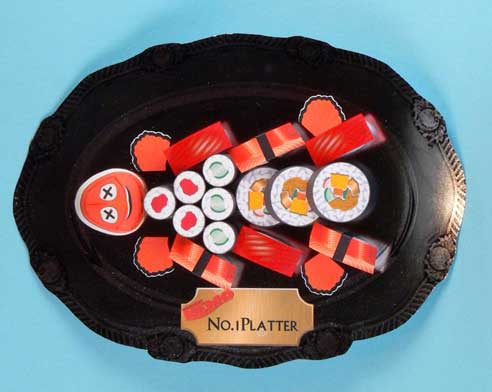 Humor Award: Ray Smith's Filet Minion and Sushi Nemo food curiosities.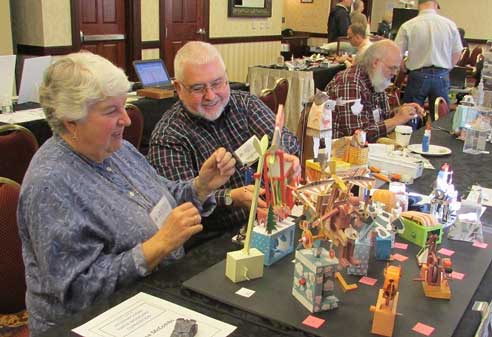 Automata Award: George Kloda's display of a multitude of complex automata.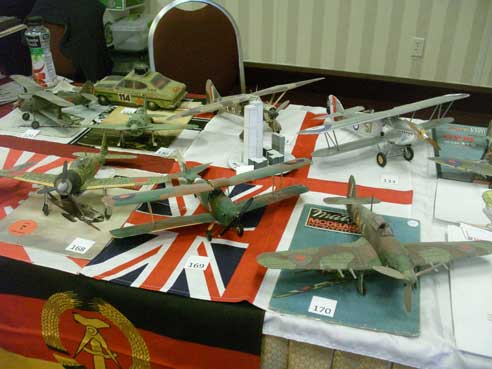 Greg Perry Silk Purse Out of a Sow's Ear Endowed Award: Joe Bloom's display of early Mały models.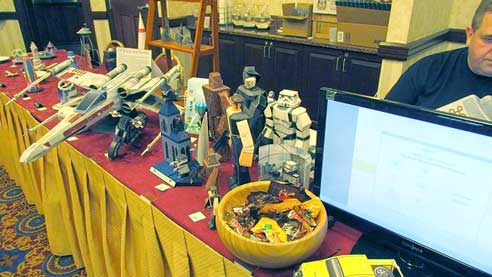 Awards Chairman's Special Awards: Rick Steffers for Space (Imagined) Science Fiction Models and Outstanding Support of the IMPC.
Anne McCombs for turning her Russian Bell Airacuda Sow's Ear into a Silk Purse and for music, choreography, and tour guiding.
Thanks much to Don Boose, Lil Boose, Anne McCombs and Rick Steffers for organizing the IPMC 2016 Awards Committee!
---
International Paper Modelers Convention Show Awards 2008-2015